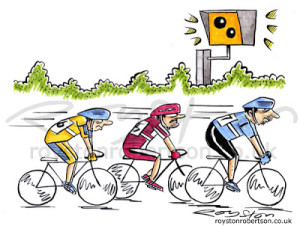 Reynoldston Biking Group
 For those who have not been on a Biking Group ride and   feel you can ride 25 miles and wish to join us please contact John Bastiani (391492) or email jb@reynoldston.com. Many in the group are relatively inexperienced riders and the rides selected each month do not involve steep hills and are mostly confined to cycle paths.
Our area has many varied cycle paths for us to explore and the Reynoldston Biking Group enables people who may not have cycled for some time to enjoy riding at a comfortable pace on cycle paths and quiet roads. The target mileage is a 20 miles round trip with coffee stops (where possible) and a café lunch at the mid-point. On some occasions we are able to include secondary start points on the route to allow those that wish to ride a shorter distance to join us. We drive to the start points which are described in an email a little before the ride date. If you wish to obtain more information please contact me on telephone or email below.
The group is drawn from all parts of Gower and Swansea.
Main contact: John Bastiani
Tel: 01792391492
Mob: 07795055369
Please contact me if you require further information on the rides.
Email: jb@reynoldston.com
Link:
http://swanseacycling.webs.com/
Regular Sunday and midweek rides for those that may want more from their ride.
http://www.wheelrights.org.uk/
Wheelrights is a campaign group that seeks to improve cycle facilities in the Swansea area.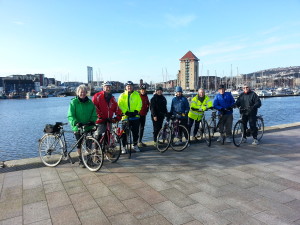 It could have been Nice but it was still nice.
For the foodies, we took lunch at Garbo's.
Photo taken on our February ride.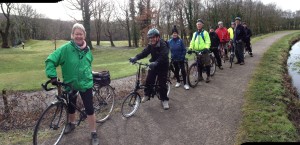 PLEASE NOTE THAT THIS IS NOT AN ORGANISED RIDE AND BY JOINING ME YOU
WILL BE DOING SO ENTIRELY AT YOUR OWN RISK.
John Bastiani
Tel 01792 391492
Mob 07795055369
Email: jb@reynoldston.com
"Tea, Toast, Trees and a Himalayan Trail", August 29, 2015
Not wishing to be outdone by the Reynoldston Ramblers' recent revel in the Rhondda, the Cycling Group chose the somewhat secluded sophistication of the Afon Afan and Afon Corrwg valleys to exercise an exciting excursion of extemporary exploration and a gargantuan gourmet extravaganza.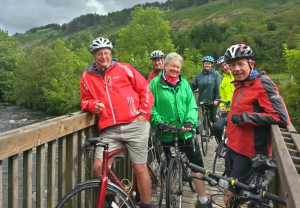 The weather had already been very wet and the sky was overcast, so we were prepared.
Ascending easily from the spectacular twin viaducts of Pontrhydyfen the group made an early scheduled refreshment stop at the illustrious South Wales Miners Museum in Cynonville; a Mecca for mining memorabilia,    morning mugs, munchies and merriment. Why anyone would ever want to buy a sign saying "Grow your own Dope – Plant a Man" at the Miners        Museum shop is beyond me; although my wife did. [Ablution aficionados should keep an eye out for the beautifully restored 1930s pull chain in full working order in the disabled toilet – worth a detour!]
Passing an impressive triple waterfall flooding over the platform at the     abandoned "Barbeque Shelter" station, we gradually climbed through the beautiful steep-sided valley; the path bounded everywhere by "policeman's helmets". 'Allo, 'allo, 'allo! Wot's all this then? It's 'imalayan balsam, (apparently an outdoor busy Lizzie), in full bloom. It seems that one man's helmet really is another man's invasive species.
On reaching Cymmer, we crossed a vertiginously high road bridge to turn northwards alongside the Afon Corrwg. The bridge was clearly suffering from concrete disease, which explained the seemingly incongruous strict traffic limitations in a place with one pedestrian and absolutely no traffic.
It wasn't long before we passed the very interesting Glyncorrwg ponds,     attended by wellied fly-fishermen battling with the south-westerly breeze, and arrived at the Visitor Centre for a light lunch. Luckily the all-day breakfast was off, otherwise we might have missed the spectacle.
In my experience, beans on toast is usually a relatively modest affair, but this cafe went beyond five stars. Two of our group, including our leader (yellow jersey in the wash), were privileged to experience 'imalayan bounties of baked beans cascading over monumental slabs of succulently buttered toast, and the rest of us felt privileged just to be there and witness it. Can cycling get any better?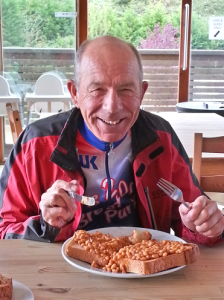 Another mug of tea later and we were off back down the valley and the     cycling did indeed get better, we were coasting. We passed the same anglers, who still hadn't realised that they might be better off    casting from the upwind side of the pond rather than     repeatedly getting a faceful of sharp fly (but then, what do I know?). The weather        improved and the sky revealed itself yet again to be blue. The valley was resplendent and peaceful, the remnants of its industrial past having been blanketed by summer greenery sparkling in the warm sunshine.
A very swift debate as to whether a final tea stop was appropriate or not culminated in a dash for the deck chairs on the sun-drenched patio outside the Miners' Museum.
I don't believe it, another mug of tea! Conversation quickly focused on the pressing issue of an imminent Christmas and the best length of time to display elaborately decorated trees.
Suggestions ranged from zero to three months and I sensed that both of these extremes were not just borne of religious contempt but some laziness as well. Perhaps the best compromise suggested was the complete tree that just needed to be retrieved from its cover in the loft and plugged in for a day or two, whereupon banished again to its dark dust cover for another 363 days. What is the World coming to?
Pressing issues resolved, especially for those "has beans", we coasted the remaining few hundred yards back to the car park overlooking the stunning viaducts.
What a fabulous day!                                                             Rob Symberlist
Rob.