The "Reynoldston News" is a monthly magazine distributed free to every household in the village. The magazine is managed as a sub-committee of the Reynoldston Village Hall Association. The "Reynoldston News" contains forty pages of information about forthcoming events, reports activities that have taken place in the village, colour photographs, humour and advertisements for local businesses. Many local businesses advertise in the magazine.
Submission of features, short stories, humour and pictures are most welcome
Copy date is mid month.
Editorial duties are shared through the year. Current Editors are Hugh and Enid Jones, John Bastiani, Maria Jones,  Jo Bailey ,Deb Vine,  Felicity Parrott. Valerie Beynon and Keith Fuller are responsible for advertisements in the magazine. Additional Editors are most welcome. No previous experience required and full training given!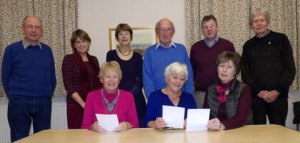 email: villagenews@reynoldston.com
Commercial Manager responsible for advertisements is Valerie Beynon –  valerie.beynon@reynoldston.comThe
Why not become a sponsor of this magazine?
It now costs us £136 to print each edition of Reynoldston News and there are other costs, such as computer inks, photocopying and paper. In addition, all those associated with the magazine do so on a voluntary basis. We are most grateful to our advertisers for their support but revenue form this source still does not cover all the costs. By becoming a sponsor of the Reynoldston News you will help keep the publication "in the black". This is also a way of showing your appreciation of a good read and of being kept up to date with all the village events. We know that village organizations also value the publicity they gain through the magazine and their sponsorship is most welcome.. May we suggest £10 – £20 but any donation higher or lower would be very welcome. Please just fill in the form below!
The Editorial Committee will really appreciate your support.
**************************************************************************
Sponsorship of Reynoldston News
I/We wish to sponsor Reynoldston News.
I/We enclose a cheque for £ (payable to Reynoldston Village Hall Association)
Name (s)……………………………………………..
Address……………………………………………………
………………………………………………………………
Tel:……………………….email………………………..
Please return to: Valerie Beynon, Myrtle Villa, Reynoldston, Swansea SA3 1AD