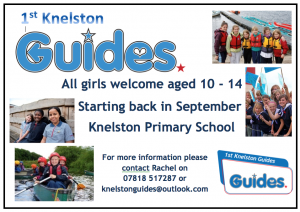 Is your daughter aged 10 – 14? If so, ever thought about joining Guides?
Guides get involved in everything – from adventure sports and performing arts to travelling and taking part in community action projects. Guides have the chance to get out there and do something really different. They are girls aged 10 to 14 who explore new places, go on camps, holidays and trips (sometimes abroad!), meet new friends at events like the BIG GIG, and try exciting activities. By joining, your daughter can become part of a worldwide community of girls who come together to have fun, learn and make things happen. Our weekly meetings are designed to be fun allowing the girls to develop self-esteem and self-confidence in a safe environment, trying out activities that they may not normally.
A new unit that only started in November 2013, we have had a fantastic first year and cannot wait to expand and grow with more girls enjoying a wide range of activities.
If your daughter is younger then you may be interested in joining Brownies. Brownies are girls aged between 7-10 whom through regular meetings, special events, day trips, sleepovers, camps and holidays, they learn new hobbies, play music, explore other cultures and get adventurous outdoors.
If you feel that this is something that your daughter may be interested in then please feel free to get in touch with Rachel on 07818517287 or knelstonguides@outlook.com.