Every Wednesday at 7.30 pm in the Village Hall (except 4th Wednesday of each month).
Fridays between 2pm and 4pm except when there are clashes with other activities.
In these instances we play between 7.30pm and 9.30pm
Beginners welcome.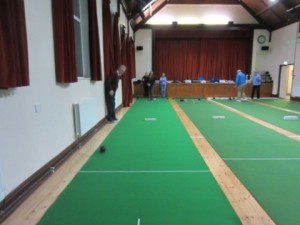 Reynoldston Short Mat Bowls Club
The aim of the club is to promote social short mat bowls with some friendly inter team competition.
The club will be run on an informal basis without a committee, all players helping wherever possible. Members will be constantly kept informed and their approval will be sought on changes within the club.
Membership of the club is open to any person subject to acceptance by the members.
A new player will be allowed two free sessions after which they are expected to pay an annual club membership subscription of £10.
For each playing session there is a fee of £3.
Non-members will be charged a playing fee of £4.
Annual membership starts on 1st September and those joining part way through the year will be charged on a sliding scale i.e. after 1st Dec £7.50, after 1st Mar £5, after 1st July £2.50.
Playing sessions are:
Wednesday night 7pm till 9pm
Friday night 2pm till 4pm or 7pm till 9pm depending which session attracts maximum attendance.
Occasionally session times may vary due to other functions at the Hall. Alternative times will be emailed to members.
Players are encouraged to turn up early to help put out the mats and similarly help put away at the end of the session.
Refreshments will be provided mid way through the session.
To prevent the mats deteriorating, players must wear flat, non-patterned indoor footwear. Slippers are permissible
Some bowls belonging to Alan Bryant are available for members to use. The Club encourages members to purchase their own bowls preferably from Alan's stock, as long as a suitable size/type are found.
For Membership and playing queries please contact John or Ursula Bastiani on jb@reynoldston.com (391492)
Liaison with external clubs – contact John Rock johnandjudith@reynoldston.com (391316)