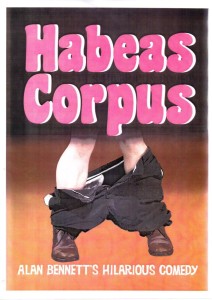 Performed by Gower Players at Reynoldston Village Hall SA3 1AA
on Thursday 4, Friday 5 & Saturday 6 December 2014
Theatre club style with bar
Habeas Corpus is a comedy written by Alan Bennett and set in Brighton in the 1960s.  The play concerns the apparently respectable Wicksteed family in all their seedy glory.  We are introduced to all the characters at the beginning of the play by the nosey and manipulative cleaner Mrs Swabb.  There is a succession of characters from a rampant doctor and a randy vicar to a hypochondriac son and a flat chested spinster.  All the makings of a classic farce with plenty of dropped trousers, unrequited lust and mistaken identity.  It is not a play for those easily offended!!
Photos from Dress Rehearsal Sunday 30 November 2014
THE CAST 
6 December 2014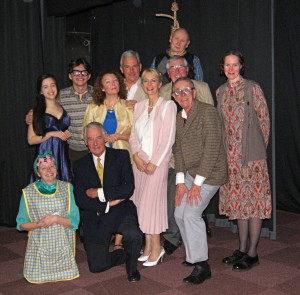 Front Row – Clare Murray as Mrs Swabb and Peter Bowen Simpkins as Sir Percy Shorter
Middle Row – Emma Harvey as Felicity Rumpers, Max Harlow as Dennis Wicksteed, Marie Tucker as Muriel Wicksteed, Suzanne Harris as Lady Rumpers, Ian Hagain as Mr Shanks
Back Row – Ralph Allemano as Dr Wicksteed, John Mahoney as Canon Throbbing, Dawn Thomas as Connie Wicksteed
And in the noose our director Viv Davies as Mr Perdue.