Our March Production is on 17, 18, 19 March 2016 – two one act plays:
Strictly Sex Factor on Ice by David Tristram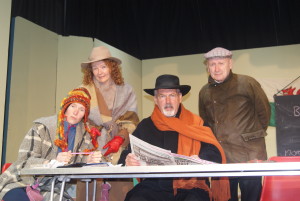 The Little Grimley Amateur Drama Society are faced with yet another threat to their very existence. Reality TV shows have ravaged their Saturday night audiences, which in their hey-day used to occasionally reach double figures. Never one to take these things lying down, Chairman Gordon has devised a cunning plan to compete head-on, their very own live Saturday night blockbuster, combining the best of all the other formats. All they need now is an audience, some contestants, four judges, a mirror ball… oh, yes, and some ice!
Men of Harlech by Johnny Grim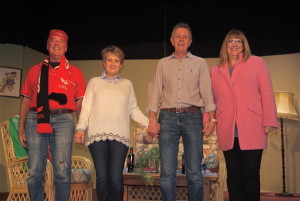 It's the chance of a lifetime for Alun Evans – a friend is offering him a ticket to the Rugby World Cup Final to see Wales play. But it's in New Zealand. Then Alun's wife offers to buy his plane ticket for him… but it'll mean missing their 30th Wedding Anniversary
To include supper on the Friday 18 and Saturday 19 March 2016
Photos from Strictly Sex Factor (On Ice)
Photos from Men of Harlech