ST GEORGE'S CHURCH
2017 REPRESENTS THE 150th ANNIVERSARY OF THE FOUNDATION OF THE RENOVATED ST.GEORGE'S CHURCH
St.George's Church 150th Anniversary Celebrations
Friday 3rd November 2017 marks the 150th anniversary of the opening of the re-built St.George's Church, here in Reynoldston. Since 1867 the Church, with its thirteen Rectors, has played, and continues to play, a key role in the life of this community.
To celebrate this anniversary, the Church Committee has arranged:
A Special Celebratory Service at 11.00am on Friday 3rd November
We are delighted that The Ven.Robert Williams, Rector of Reynoldston (1984-1988) will be giving the address. We are planning the service to be very much a happy and enjoyable occasion.
The Celebratory Lunch on Friday 3rd November
In true Reynoldston tradition, we are holding a lunch at the Village Hall at 12.30pm, immediately after the service. No speeches, just good food and an opportunity to meet with so many who have a connection, past and present, with St.George's. The cost of the meal will be £12. There will be a bar available for wine, beer and soft drinks.
An Exhibition
In the Church on Tuesday Oct.31st (10.00am – 12.00pm), Wednesday Nov.1st 2.00pm – 4.00pm) and Thursday Nov.2nd (7.00pm – 9.00pm) there will be an exhibition relating to the history of the Church, its clergy and their contribution to the village, of weddings and funerals, of those who died in the wars, epitaphs on the gravestones, prominent Reynoldston families of the past………..
Please complete and return this form to:
Heather Laurie, 8, Salisbury Close, Scurlage, Swansea SA3 1AZ before 16th October.
++++++++++++++++++++++++++++++++++++++++++++++++++++++++++++++++
St.George's Church Anniversary Celebrations
I/We will be attending …Name (s)………………………………………………………….
The Celebratory Service                          The Lunch
I enclose a cheque £…….. (payable to St.George's Church)
Any dietary requirement?…………………………………………………………………………………………
Contact details: tel. and email: ………………………………………………………………………………….
Services are held at 9.45 a.m. unless otherwise notified 
Parish Priest:
Rev. Carol Davies     (Tel. 01792 390456)
St George's Reynoldston September 2017

 

Date
Readers
Sidespeople
Chalice
Intercessions
Coffee
Cleaners
Flowers
September 3

Trinity 12

9.45am

Claire and Sarah Bowles

John Mahoney

Heather Laurie

Hugh Jones

Sue Hutson

Ruth Williams

September10

Trinity 13

10 00am

Benefice

Service     at

Penrice

September 17th

Trinity 14

9.45am

Carley and Paul Lloyd-Davies

Alma and Brian Ashman

Claire Dinsdale

Enid Jones

Heather Laurie

Joyce Robertson

September 24th

Trinity 15

9.45am

Worship Leaders

Joyce Robertson and Angela Bending

Worship Leaders

Olivia Craddock

Wedding flowers
ST GEORGE'S CHURCH, REYNOLDSTON
St George's Church Committee:
Peter Bowen-Simpkins – Chairman
Heather Laurie – Secretary
Angela Bending – Social committee
Jennie Clements – Treasurer
Jennie Cooper
Olivia Craddock – Music
Valerie Fuller – Health and Safety*
Lloyd Davies – Fabric
Sheila Williams – Vicar's Warden*
Valerie Beynon (ex-officio) Benefice Warden*
represent St George's on the PCC
The next meeting of St George's Church Committee will be on Tuesday 15th August at 7.00 pm in the Upper Room, Village Hall.
ST. GEORGE'S COFFEE MORNING
Since Angela was unwell (but we are pleased to report has now recovered), the Annual Coffee Morning was transferred to the Croft where Enid and Hugh had very kindly offered to open their home to us. We were able to enjoy their warm welcome inside and sitting in the glorious sunshine in the garden. As usual, the event was a great social and financial success and some delicious cakes and savouries were appreciated. Bright Ideas Garden Centre added to the colour with a good selection of plants for sale. Thank you very much to all who contributed in any way as well as those who came to support the event.
MINUTES OF THE ANNUAL CONGREGATIONAL MEETING HELD IN THE CHURCH ON SUNDAY 2 APRIL 2017 AT 11.00 A.M.
Present:          Peter Bowen-Simpkins (Chairman) and 16 congregation members as recorded in the ACM Attendance Register (Appendix 1 to the formal Minutes).
Apologies:      Revd. Carol Davies; Richard Laurie; Enid Jones
The Chairman welcomed and thanked Jennie Clements for accepting St George's Church Treasury ship. His remarks were enthusiastically endorsed by the meeting.
2016 ACM Minutes: The Minutes of the Annual Congregational Meeting held on 3 April 2016, ratified on 12th April 2016 by the Church Committee and circulated previously, were approved and signed by the Chairman as a true record after proposal by Angela Bending, seconded by Olivia Craddock.
Annual Report: The 2016 Annual Report, ratified electronically by the Church Committee before 18th March 2017, was received for approval prior to adoption of it by the PCC at its 25th April 2017 Annual Vestry meeting. Heather was thanked for writing it. Valerie Fuller's proposed approval of the Report, seconded by Jenny Cooper. The proposal was carried unanimously. (Appendix 2 to the formal Minutes).
2    Reports           It was agreed to receive the Social and Fundraising Committee report    before the Finance Report
2.1      Social and Fundraising Committee: Angela Bending informed the meeting that during 2016, this committee had raised over six thousand pounds through four fundraising events, representing 21% of the church's total income for 2016. Angela warmly thanked her team, all who support the fundraising events by attendance, and those who readily give their assistance to the team. She drew attention to the-committee's donations of £380 to Medicine Sans Frontières and £395 to the Salvation Army, these sums being over and above funds raised for the church. Angela requested new ideas for 2017 fundraising events. The meeting applauded the 2016 work she and her committee had done and thanked them sincerely. The Chairman added his personal thanks to Angela, whose verbal report was proposed for adoption by Sheila Williams, seconded by Sue Hutson and unanimously carried.
 2.2      Finance: Jennie Clements highlighted key points in the Financial Statements for the year prepared by outgoing Treasurer, Peter Davies (Income and Expenditure Summary is Appendix 3 to the formal Minutes; full statements stored electronically). These were:
Deficit The £2000 deficit reflected at 31.12.2016 will be cleared by the increased regular income generated by the Appeal launched by Hugh Jones and his working group. It was noted that the budgeted deficit for the year end had been £4000. Both budgeted and actual deficit take into account our £1400 contribution to Llandewi's Ministry Share.
Donations and Grants Church maintenance increased by over £3200 in 2016, and was offset chiefly by:

Community Council donation £1,000 towards churchyard maintenance l
Gower Society Grant £1,860 towards essential fabric repairs
2.3      Fabric: Paul Lloyd-Davies read his report (Appendix 4 to the formal Minutes), drawing attention to
Our indebtedness to the

Gower Society for satisfactory completion of repairs to the choir window and re-pointing of the East Gable at a total cost of £2,270 towards which the Gower Society had awarded us a Grant of £1,860. He thanked Heather for negotiating this.
Fire Station staff for helping replace high level light bulbs

Certified testing of all electrical wiring and appliances
The Quinquennial Inspection being due in 2107 at a date to be advised
He thanked those who had tidied up the Churchyard on its annual due date, and                   those who helped with the Church interior "Spring Clean", as well as all who help               throughout the year with cleaning and decoration. Paul was thanked for his work. Hugh Jones proposed acceptance of his report, seconded by Valerie Beynon. The proposal was carried unanimously.
2.4      Young People; Health and Safety: No reports, as neither Claire Bowles (Young People) nor Val Fuller (Health & Safety) were able to remain in the meeting.
3.          Election of Sub-Wardens
Noted: despite representation made to the Bishop regarding the age limit restriction applicable to service by sub-wardens, no change to the 75 year age rule is anticipated until 2020. There being no persons under that age willing to serve, it was proposed by Valerie Beynon, seconded by Valerie Fulller that Peter Bowen-Simpkins and Sheila Williams remain in office for 2017. Jenny Cooper's suggestion, unanimously agreed, was that their posts be held subject to delegation of some duties to listed volunteers.
Resolved to discuss detail at the next Church Committee.                                 HL
4.         Election of 2017 Committee Members
All officers retire automatically, and may offer themselves for re-election in Annual Congregational Meeting. As all 2016 serving officers had offered themselves for re-election, Valerie Beynon excepted (see Appendix 5 to the formal Minutes) it was proposed by Peter Craddock and seconded by James Hutson, that they be re-elected en bloc and to re-assume their 2016 special responsibilities. The proposal was carried unanimously. The 2017 Committee and their special responsibilities are therefore
Peter Bowen-Simpkins                                     Lay Chairman
Jennie Clements                                                Treasurer (by appointment)
Heather Laurie                                                  Secretary
Angela Bending                                                 Social and Fundraising Committee
Claire Bowles                                                    Young People
Jenny Cooper                                                   Disability Access
Olivia Craddock                                                Director of Music
Val Fuller                                                          United Benefice Representative and                                                                                Health and Safety
Paul Lloyd-Davies                                            Fabric
Noted that this action precludes need for the customary post ACM meeting of the incoming Committee to elect executive officers and appoint members with special responsibilities.
5.          Independent Examiner of Accounts
Jennie Clements informed the meeting that Peter Davies is both eligible and willing to act. Olivia Craddock proposed appointment of Peter Davies, seconded by Paul Lloyd-Davies. The proposal was carried unanimously
6.    St George's 150th Birthday: 3 November 2017
Discussion of how to celebrate this event was lively. Valerie Beynon suggested three possibilities, one being a special service followed by luncheon at the King Arthur to include former clergy as guests. 5th November was not convenient for the hotel and it was suggested that 29th October would be more suitable. It concluded with acceptance of Hugh Jones' kind suggestion that he set up a working party to plan and execute the best possible exhibitions / event to mark the historic occasion. The meeting expressed its deep gratitude to Hugh for assuming this task.                                                    HJ.
7    Other Business
      7.1      Olivia Craddock stepped down as St George's reporter to the Ministry Area Magazine. Valerie Beynon's offer to replace her, with Heather Laurie as alternate, was accepted.
8    Dates of Next Meetings
      8.1.     2017 Annual Congregational Meeting:        To be determined in 2018 by     the Revd. Carol Davies.
      8.2       Church Committee Meeting:              Tuesday 11 April 2017 at 7 pm in the      Upper Room, Reynoldston Village Hall
The Chairman thanked the secretary for her excellent note keeping and minutes and for preparing the agenda of our meetings.
There being no further business, the meeting closed at 12 noon.
ANNUAL REPORT FOR 2016-7
The mere thought of commanding six not-so-watertight, antique vessels crewed by and filled with elderly persons in unfamiliar waters is daunting. That reality faced Revd Carol as a cleric newly appointed to navigate the UBSWG church fleet of six, without the support of a full time cleric, through some previously uncharted waters, namely, the newly established Ministry Area.
St George's salute her for guiding us firmly and wisely through 2016, working hard to provide the best possible services for us and for devoting her personal time to reach a level of pastoral care in Reynoldston above our expectations. We thank her for working with us, being always approachable and calm, always retaining her good humour.
St George's dynamic within Reynoldston during the year was manifest in the numerous activities in which the village engages. At the heart of most groups which meet regularly for discussion or action is a church member: Music Group, Reading Group, Reynoldston Ramblers, Keep Fit, Film Club, Afternoon Club and many more. In addition to the fundraisers staged by the church's Social and Fundraising Committee, which accrued well over five thousand pounds for us this year and also entertained the wider community, they donated £380 to Medicine sans Frontières. Our "Carols on the Green" initiative collected £395 for the Salvation Army. Reynoldston's collection for "Faith in Families" totalled £339.
Despite the energy and imagination poured into fundraising, the financial year end found us in deficit, chiefly because of our share of contribution to St David's. Fortunately, the 2016 Action Group formed expressly to eliminate the deficit achieved wonders. They secured significantly increased Planned Giving, which will offset the deficit in 2017. We record our heartfelt thanks to this group of four men.
Fabric improvements during the year included pointing repair to the east end arch, thanks to the Grant awarded us by the Gower Society, and a grant from Swansea Welsh Church Act Fund towards the purchase of pew runner cushions. Achievements were the erection of the Memorial Cross in the Garden of Remembrance and its dedication in April during a short service led by Revd Carol. Administratively, we completed our Health and Safety Policy Profile, now displayed on our Notice Board.
We offer most grateful thanks to all who have served us with dedication and diligence: our two Sub-Wardens, Sheila Williams and Peter Bowen-Simpkins; our committee; our Interim Treasurer, Peter Davies; our fabric minder, Paul Lloyd-Davies; plus our teams of worship leaders, intercessors, cleaners, flower arrangers, coffee makers, readers, chalice administrators, rota drafters, organists and choir. All of these, with our faithful congregation, worked in harmony throughout the year to ensure that we had a welcoming, attractive church, smoothly run, and fit to offer worship, praise and thanksgiving for the Life of Christ.
The History of St. George's Church
The Patronal dedication name of Reynoldston's Church, St. George, reminds us of the Norman and English influences which predominated in this part of Wales for much of the last Millennium.
For many centuries a church has stood on this site now occupied by the current building, which dates from the mid-1860's and is a fine example of Victorian Gothic architecture and includes many examples of 20thcentury stained glass, including a three-light east window designed by Nathaniel Westlake.
One of the early Christian monuments in Gower is a pillar cross near the chancel arch and another feature of the church is the Norman font that is carved from a single block of stalagmite
(Taken from the leaflet in The Steps of the Saints. A Trail of Gower Churches, written by Ryan Griffiths, Phil & Anne King).
Sunday Service
9.45 am 
For details regarding the United Benefice:  go to
http://www.reynoldston.com/?page_id=208 
The Church Choir…. this mixed Choir, under the direction of Olivia Craddock, meets every Wednesday evening for practice. New members are most welcome.
Sunday School… The Sunday School meets on the first and third Sunday of the month, at 9.30am, in the Village Hall.
The Church Social Committee…. this group organizes a number of fundraising events during the year.
Reynoldston Church in early times
Click on image to see in full size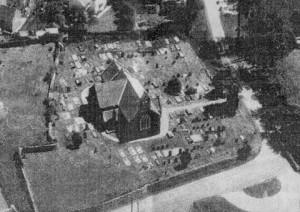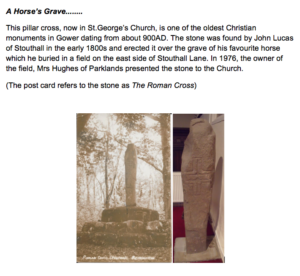 The following is extracted from a book entitled
Sketches in Gower by Mary Wood 1861