REYNOLDSTON VILLAGE HALL
Church Meadow, Reynoldston, Swansea SA3 1AA
Diections : If entering the village from Cefn Bryn and past the King Arthur Hotel on the left hand side, proceed down through a narrow lane onto the Lower Green. Turn immediate right onto the single track road past the Church and then turn right at the Fire Station to the Village Hall.
By email: bookings@reynoldston.com
By telephone: 07732-989288
To make a booking; http://reynoldstonvillagehall.wales/
Recent grants from the Welsh Government have resulted in a range of improvements to the Hall including new curtains and blinds throughout; 150 high quality upholstered chairs; additional tables including pre-school size; audio visual facilities in the Minor Hall; a fully carpeted stage. Soon, the Hall will have a re-designed bar area, additional mood lighting and refurbished floors and ceilings.
The Village Hall consists of a large Main Hall and
stage, a Minor Hall, a kitchen, bar and lavatories.
There is a meeting room on the first floor, suitable
for small groups.
This large Hall is very suitable for dinners, charity
functions,wedding receptions,
conferences,dances, parties,concerts and drama.
The Hall is large enough to house a large bouncy
castle, so it is ideal for children's parties.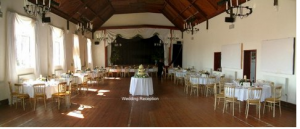 MAIN HALL
Over 100 diners can be seated in comfort and there is room for audiences of over 200.
Folding tables, lighweight plastic chairs and
banqueting chairs are available.Chairs and tables
suitable for pre-shool age and high chairs are also
available.
MINOR HALL
Suitable for small groups of up to 30. Audio visual equipment. Tea/coffee making facilities. Small  and large tables and upholstered chairs.
UPPER MEETING ROOM
Suitable for small meetings of 10-12. Tables and upholstered chairs.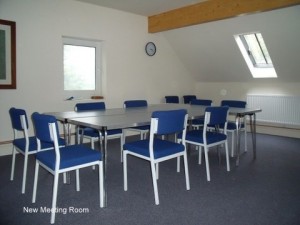 STAGE, Sound and Lighting Facilities
The large stage has sound and lighting boards, tape, cd and pa systems, spotlights and stage lighting. A short throw projector and screen is available. Full curtaining.
FACILITIES
Kitchen and Bar Area Cooker, microwave, water heater, kettle, refrigerator/freezer and chiller. Cutlery, wine glasses, full range of crockery.
Toilets Both the Main and Minor Halls Main Hall are  serviced by male, female and disabled facilities. Baby changing units are available. Heating The Halls have central heating which is activated by coin boxes. Access There is car parking space at the front (with disabled access) and also at the rear of the Hall (with disabled access) Wedding Receptions. Why not book yours with us?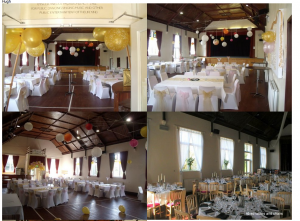 CONTACTS:
  REYNOLDSTON VILLAGE HALL
ASSOCIATION
Regular Hall Users
The following groups and organisations currently use the Hall:
Badminton Club
Keep Fit Classes (2)
Indoor Bowls
Women's Institute
Flower Arranging
Gower Film Club
Gower Players Drama Group
Scouts/Cubs/Beavers
Gwerin y Coed/Woodland Folk
Monkey Music
Fizzykids
St George's Church Committee
Reynoldston Community Council
***********************************************************
Reynoldston Village Hall is a Great Place for a Children's Party! There is even room for a large bouncy castle, if you want to hire one! With a fully equipped kitchen, a full sound and film system and so much room, the Hall could well meet your party needs. Discuss your requirements with the Bookings Secretary, telephone as shown above
A great place to hold an event or join a community based activity ! In 2012, some 11,000 people attended regular events, classes and special events at the Hall. These ranged from plays/films, craft fairs, exhibitions, dinners, parties, weddings, many different classes, fundraising events and more. The Hall Trustees pride themselves on the quality and range of the facilities available and that every attempt is made to meet the needs of the users, whether regular or "one off". Your contact: bookings@reynoldston.com or tel: 07732-989288
Reynoldston Village Hall is available for hire, at very reasonable cost, for activities which have an association with the village and/or the surrounding Gower area. The facilities are ideal for physical acivities, dances, dinners, weddings, fund raising events and private parties. The large Main Hall is particularly suitable for children's parties 9large enough to house a full size bouncey castle! The Hall comprises two separate, but connecting, units – the Main Hall and The Minor   Hall.  Each can be used independently with separate facilities including toilet facilities for the disabled. There is a Small Meeting Room available on the upper floor.
The Main Hall has a seated capacity of 200 (auditorium) and 120 (dining) with  large tables (stored on table trolleys) and sufficient chairs. Smaller tables are also available, by arrangement. A large room divider/screen is available.  Kitchen facilities are provided (crockery, cutlerly, cooker, microwave, warming cabinet  refrigerator/ freezer, kettles/ wall mounted kettle, serving areas). Washing up liquid and drying up cloths are provided Both Main and Minor Halls have access to changing rooms/cloakrooms. The Main Hall also incorporates a stage area. Stage sound, projection and lighting facilities are also available.  Usage of the stage and stage equipment is not automatically included in a booking and any proposed use of the stage area must be specified at the time of booking. The detailed requirements of hirers should be discussed at the time of booking. A full sound system is available, on request. Music can be played via cd, iplayer or computer alongside roving and fixed miccrophone facilities. A projector and large fixed screen is available in the Main Hall. The system can project DVDs, photographs and information via the appropriate player or laptop. There is a small charge for the use of this facility.
The Minor Hall provides an excellent venue for small group meetings, with seating for typically 20 to 30 people in comfort.  Tea and coffee making facilities, small tables, projector /screen available Washing up facilities form an integral part.  
The Small Meeting Room seats ten to twelve people in comfort. The local Drama Group, Gower Players, has developed an extensive collection of costumes. These are available for hire to other drama groups or individuals. The collection is stored at the Hall.
Main Hall


Minor hall

Upper Meeting Room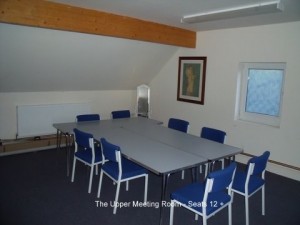 New Solar Panels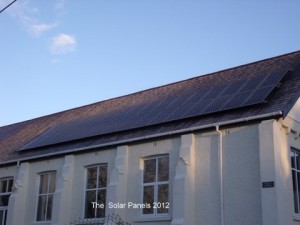 2013 Hall Personnel
Trustees
Hugh Jones          Chair of Trustees
Alan Bryant           Trustee -Vice-Chair
Secretary Enid Jones    Hall Booking Secretary
Adrian Richards     Malcolm Bond          Gerard Turley        Paul Valerio          Sheila Williams    Rob Vine               Margie Bond – Wedding Reception Co-ordinator;  
History of the Hall
Vestry Hall The Immediate Post –War Years
The Reynoldston Village Hall Association Page 1 page 2
The Establishment of the Reynoldston Village Hall Association
Vestry Hall Daisy Fisher Recalls The plans for the new Hall January 1924
Activities in The Church Hall in the 1930s and 1940s